5th Annual Encina Alumni Challenge
[Pledges and RSVPs] [Dinner photos] [Game photos] [Rollin Coxe photos]
Final score: Alumni 73, Varsity 71
We raise over $48,000 in pledges for the Encina Booster Club!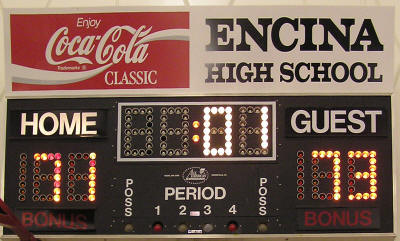 Highlight video (26mb mp4)(courtesy of Rob Daleiden '90)
Alumni team


Front: Rob Daleiden 90, Doug Nareau 70, Scottie Morales 00, Kim Tierney 78
Back: Norm Siefkin 63, Jim Eakins 64, Chris Dahlberg 80, Bob Goosmann 74
Varsity team
Randy Predium, Andreas Oliverez, Thomas Henderson III, Milen Karavan, Douglas Faataliga, Pierien Inniss, Yuriy Bochillo, Andre Jamal Williams, Phillip Johnson, Jerren "J-Bone" White
Fellow Alumni,
What a night! It was truly incredible to see alumni and students together representing so much of Encina's history. And what a game! Players spanning more than 35 years of Encina graduates on the floor together was amazing. Though the alumni team had serious height, the varsity team had plenty of speed, power and determination. The game was not lacking in action or competitive spirit.
Alumni and student spirit was also evident by the great turnout. We've never had better attendance nor, at least for me, more fun. Encina alumni once again showed their school spirit and generosity by raising more than $45,000 for our school.
My sincere THANKS to everyone who helped to make this year's Alumni Challenge a great success!
Steve Palmer '74
Alumni Challenge Co-organizer


ALUMNI TEAM NOTES

This year's game was once again remarkably competitive--it's amazing how every year it comes down to the wire. My kudos to the amazing alumni crowd, the largest (and noisiest) we've had to date. And major props to my teammates: the terrific scoring by Scottie Morales; great defense and hustle from Doug Nareau; inside play by Chris (Throw it Down!) Dahlberg; outstanding guard play from Rob Daleiden and Kim Tierney; solid all-around play of Norm Siefkin (who played with an injury); and tremendous game by Jim
Eakins (I've now met someone who is as competitive as I am, albeit with three times the talent). It was a joy playing with all of you.
The ultimate success of the event is due to the amazing generosity of Encina alumni. Each year I think there is no way we will match the previous year's donations, and each year I am amazed by everyone's willingness to give back to their alma mater. It definitely inspires me, even on the morning after when I get out of bed and feel like an old man of 80 who just got run over by a bus. See you all next year at Alumni Challenge VI!
Bob Goosmann '74

I shouldn't be, but I'm surprised at the continued success of this event. I thought it would be one-time thing four years ago, but due to the tireless efforts of Harlan, Steve, Bob, the school, and especially the generous alumni donors, this event has now become a ritual. It was a pleasure to play again this year, especially with a bunch of great guys. Special props out to double zero (00) Jim (Greg Ostertag) Eakins for taking the time to fly out and participate. The time he took for photos and interviews was extremely generous. The game was fun, and as usual, we (alumni) always have to make it exciting at the end. I'm ready to go back at it next year.
Kim Tierney 78


As a 11 and 12 year old kid on the playgrounds of Edison Elementary and Jonas Salk I, along with my classmates would pretend we were Encina Apaches, trying our best to emulate our heros, Norm Siefkin and Jim Eakins, probably the two finest basketball players in Encina history. So, it was a true honor for me to get to participate in a game in which two of my childhood heros were the star attractions. But, I was equally impressed with the youngsters, Bob, Kim and Chris who showed that athletic prowess doesn't have to diminish when you hit the big 40. These guys were truly inspirational and the heart of the alumni team. The two youngest players , Rob and Scott, were the energy of the team and thanks "kids" for keeping us alive in the 4th quarter. Bob Goosman really made this group feel like a team and my hats off to all them as men and athletes.
I would also like to express my highest admiration for the students at Encina. This group of young adults can be described in one word, CLASS. I have had the experience of coaching three section championship teams but I have never been with a group of students who were as respectful, appreciative, and mature as this group. Encina Bulldogs, you are a true credit to the Sacramento/Arden community and I hope the community continues to rise to the challenge of supporting this fine group of students.
Lastly, the experience was made really worthwhile for me by the support of my family, friends and members of the class of 70 who showed their support by showing up at the game or contributing financially. I hope I am the first in a long line of class of 70 alums (who will add much more basketball ability than I did to the game) who participate in the game. It was a once in a lifetime experience that I hope others have the chance to enjoy. Thanks Harlan, Steve and Bob for providing the opportunity.
Douglas Nareau 70

It was an absolute pleasure to have an opportunity to play basketball for Encina High School one more time. I was extremely fortunate to play alongside some of the great basketball legends of Encina High School and the very talented varsity Bulldog team (21-4)!!!
Encina High School is a fantastic place full of diversity, pride and spirit. I never knew how special Encina was until I transferred from a private school to Encina during my junior year of high school. A learning experience that teaches acceptance and offers diversity is sometimes the most important learning experience one can ever have.
When I retuned for the "Alumni Challenge", I once again felt the true spirit that makes Encina High School such a special place. I could feel the positive energy in the air when students, faculty, alumni organizers, and old friends filled the gymnasium. I took a good look into the eyes of the students and knew I was at home once again. The varsity basketball players, coaches and students are a class act and make me proud by keeping the spirit of ENCINA alive.
Robert Daleiden, Class of 1990

Former NBA Star Jim Eakins Returns Home To Compete in Encina High School Alumni Challenge

One of the most successful high school fund-raising events in Sacramento history will receive an added boost this year.

Former NBA and ABA basketball player Jim Eakins will be returning to his alma mater on April 22 to compete in the fifth annual Encina High School Alumni Challenge. The event, which includes a regulation game between the current varsity team and a squad composed of alumni players, has raised over $150,000 in its first four years to fund desperately needed programs at the school.

The 6'11" Eakins led Encina to a 20-0 record in 1964 and was the California High School Player of the Year. Following four years at Brigham Young University, he was drafted in the first round by the Oakland Oaks of the ABA in 1968 and went on to play 10 seasons in the ABA and NBA, averaging 12 points and eight rebounds per game.

Eakins will join other former Encina players—ranging in age from 23 to 60—who will take on the school's varsity team, which this year finished at 21-4 and made it to the third round of the section playoffs. The experience and savvy of the alumni has allowed them to be very competitive in the first four Alumni Challenges, with the last three games being decided in overtime.

What began in 2001 as an effort to raise a few thousand dollars for Encina through tickets sales to a pre-game dinner has evolved into a huge fund-raising success, with former students making pledges via the school's web site based on the number of points scored by the alumni team. The more than $46,000 raised last year was used to fund sports and cheerleading programs, student trips, reading and tutoring programs, and much more.

The game will be held at the Encina gym on Friday, April 22 at 7:30 p.m., preceded by a free barbecue dinner for students, alumni and their families. Additional information is available at www.encinahighschool.com or by calling (916) 875-6847.
Date: Friday, April 22, 2005
Dinner: catered by Dannie's Catering
Location: Encina cafeteria


Time: 530-700 pm




Cost: FREE FREE FREE

Dannie: dannie at danniescatering.com
www.danniescatering.com
916-879-3800
Alumni challenge basketball game
Location: gym
Time: 730 pm
Cost: FREE FREE FREE
Organizers: Bob Goosmann 74 and Steve Palmer 74
Official videographer: Robert Daleidan 90
Robert Daleidan, class of 90, (who is playing in this year's game) is a video guru from SF and has made arrangements to have to professional
videographers to tape the game and pre-game activities (Booster Club will cover these costs). Robert will collect the video tapes from the game and edit them into the final tape. Robert is doing this for free as his contribution to Encina (in addition to his on-court performance!). Many thanks to Robert for his time and expertise and to Bob Goosmann 74 for making the connection.
Student videographers: Nadia Korovina, Olga Kiselev, Michael Marilao, Jerren "J-Bone" White, Teaira Harris, Sharla Harris, Courtney Patterson

Official photographer: Rollin Coxe 64
Raffle donations:
Lee Pratt 61: two Jim Eakins 64 basketball cards (which Jim signed)
Rett Smart 73: signed Tim Hardaway basketball, signed San Jose Sharks puck
Russell Johnston 78: Paradise Island package
Alumni team:
Bob Goosmann 74 (captain)
Norm Siefkin 63
Jim Eakins 64
Doug Nareau 70
Bob Goosmann 74
Kim Tierney 78
Chris Dahlberg 80
Rob Daleiden 90
Scottie Morales 00
What is the Alumni Challenge?

The Alumni Challenge is a fundraising basketball game between the varsity basketball team and the alumni teamed captained by Bob Goosmann 74. In the past alumni have primarily made either flat pledges, pledges based on the score, or pledges based on the alumni team. We prefer flat pledges as we can collect them in advance and they are a known quantity, unlike pledges based on the score or individual players.

The entire event (Dinner, social and game) is free to ALL). The BBQ dinner will begin at 5:30 pm in the Encina cafeteria with the game starting at 7:30 pm.

It's sure to be an exciting game. Encina's Varsity team is strong this year and looking forward to the challenge (last year the Alumni team won in overtime!).

Who is eligible to play?

"CALL FOR PLAYERS: any alumni who graduated in 2000 or earlier and played basketball for Encina is eligible to play on the Alumni team. Preference will be given first to those who have not played in a previous Alumni Challenge. All players must be available for Saturday practice (at Encina) during the weeks leading up to the event. They must also be in reasonable condition--the game is very competitive and we are competing against players half (and in some cases one-third) our age. If you are interested in playing, contact Bob Goosmann at magusbob@hotmail.com."

I understand we have some fairly recent grads from the 90s who are interested in playing this year. If you are in contact with your basketball playing classmates, please let them know about the alumni challenge and encourage them to play. Two years ago the high scorer for the alumni team was Norm Siefkin from the class of 1963!

Every year we receive inquiries from female alumni who would like to play. Unfortunately, the alumni team is not co-ed. In order to field a women's team, we need someone like Bob to captain/coach/organize a women's team.

What are we raising money for?

Encina gets money for the traditional "core" classes such as math and reading . We (alumni) are providing assistance for many of the extracurricular programs, elective classes, clubs and other programs that help to enrich students' experience at Encina.

The money goes to the Encina Booster Club, who allocates the funds based on requests from students and faculty. While much of the money is allocated to sports as you would expect from a booster club, a lot of the money also goes to non-sports programs. Here is a list of some of the programs funded in the past:
New Student Welcome Program through Counselors
Encina Art Gallery (Art Opening Receptions)
Performing Arts (Students attending local plays)
Cheerleading
Freshman Feast (a Freshman event with Senior peers/guides)
Encina Broadcasting System (EBS) (equipment and supplies)
Football
Boy's Soccer
Girl's Soccer
Girl's Softball
Girl's Volleyball
Girl's Basketball
Boy's Basketball
Basketball Tournaments
Sports Banquets
Every 15 minutes (drug/alcohol intervention)
Alumni Challenge event
The encinahighschool.com Website
SAP (Student Assistance Program)
Reading Program
Student to Ashland to participate in Shakespeare Festival
After school tutoring
Backboard replacement
Drama department (students) trip to Ashland
How do I pledge?
Send your check to:
Encina High School Booster Club
Encina High School
Attention: Heddy Crowder
1400 Bell Street
Sacramento,CA 95825

Is my contribution tax deductible?

Yes, your contribution is tax deductible. Please take advantage of your company's matching funds program if you have one to double your contribution as I do. Encina will send you a tax letter.

How effective is the Alumni Challenge?

In the past four years the alumni challenge has raised almost $150,000 for Encina!

2004: $46,000
2003: $44,000
2002: $40,000
2001: $15,000

While this is due in no small part to the generosity of alumni benefactor Paul Bonderson 70, last year we had tremendous participation with almost 200 individual alumni pledges. These pledges ranged from a few dollars to thousands of dollars. No pledge is too small, nor too large <g>.

Alumni Challenge plaque

The alumni challenge plaque recognizes the five classes who:
1. pledge the most money
2. have the most pledges

I'm proud to say that last year the class of 73 led all classes in both total pledge ($3017) and the number of pledges (17) !

There is a picture of the 2003 Alumni Challenge plaque here: http://www.encinahighschool.com/homecoming/challenge03/rsvps.htm

Can I pledge anonymously?

Certainly. When you write, say your pledge is anonymous. However, please let me attribute your pledge to your class so they receive credit.

Why should I contribute?

Well, I can't speak for all alumni, but I give because it makes me feel good <g>. I enjoy supporting the next generation of Encina students, the interclass competition, the funny pledges (Tom Clark 70 gave $50 for a 3 pointer I made before the last game), the pride of supporting my classmates, and the feeling that we, as Encina alumni, are doing something special for our school and the community...

So do it for the kids! And do it because it makes you feel good.


Last updated: 3/12/09