50 Year Reunion
Okay, classmates...it's May 7th already as we post this, and the May 15, 2022 Early Bird Deadline for the $55 per person rate for our June 18th Encina Class of 1972 50th High School Reunion is almost here!
After that date, and until June 10, 2022, the rate will be $65 per person.
We have had a great response already!
Here are the main event details for our exciting Class of 1972 50th High School Reunion on Saturday, June 18, 2022 at:
Lake Natoma Inn
702 Gold Lake Drive
Folsom, CA 95630
It will take place in The Sutter Room from 6 pm to 11 pm.
The evening will include Mediterranean Buffet dinner and one drink per person (wine or beer). Additional drinks can be purchased at "no host" premium bar.
Dinner Buffet Includes:
Classic Ceasar Salad with Romaine Lettuce, Shaved Parmesan Cheese and Garlic Croutons with Creamy Ceasar Dressing
Italian Orzo Salad with Sun Dried Tomato Dressing
Balsamic Grilled Vegetables, Rosemary Roasted Potatoes
Penne Pasta with Olive Oil, Basil, Garlic, Sun Dried Tomatoes and Pine Nuts
Tuscan Chicken with Artichoke Hearts, Kalamata Olives and Roasted Garlic
Baked Salmon with Braised Fennel and Tomatoes
Assorted Fresh Baked Rolls and Butter
Dessert:
Cheesecake
Double Chocolate Cake
There will be a grads-only pre-gathering on Friday, June 17, 2022.
Early Bird Rate (between April 1, 2022 and May 15, 2022) is $55.00 per person.
After that date, the price per person will be $65.00.
Last date to buy tickets is June 10, 2022.
Since this is a catered event, we will not be able to accept "walk-ins" at the door.
You can pay by check. Details are listed below. Checks should be made out to Simon Slak with "Encina High School Class of 1972 - 50th Reunion" in the Memo line.
Send checks to:
Simon Slak
115 Cassin Court
Folsom, CA 95630
And a REMINDER that we've secured a discount at the Lake Natoma Inn for our out-of-town guests or anyone who would find it easier to just stay overnight at the Reunion venue and not have to drive anywhere afterward!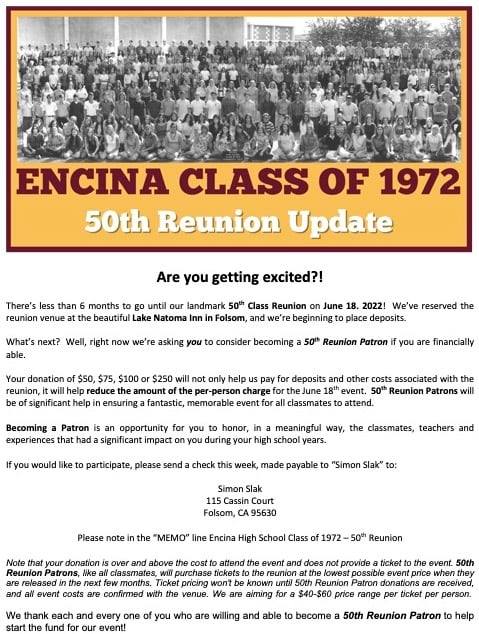 We'd love for Class of 1972 alums to connect with our email list to receive future updates. Just email Susan Schwartz Blum at susanblum@mac.com and ask her to add you to the email list!
Our 50th Reunion is going to be Saturday June 18th (main event) with a grads-only pre-gathering on Friday June 17th. Please send anyone from the class you're in contact with to our private Facebook Group. (You are more than welcome to join it as well to keep tabs on what's happening). 1) Our Facebook Group link is: https://www.facebook.com/groups/encina72reunion . Please give this link to any Class of 1972 member you come in contact with.
2) We are also duplicating our most important posts on the public-facing Encina Alumni Facebook Page, which has followers four from all the EHS classes. (The links below that I'm giving you are all to the Facebook Page, not the group, since you wouldn't be able to see the content unless you had joined the Facebook Group.)
3) Here is the latest signup information for the main reunion event on June 18th.
4) Here is the promo video describing the overall reunion weekend.
5) Read the latest posts about getting tickets to the reunion. Earlybird Deadline is May 15th.
6) Here is the link to register for the Friday night event.
7) Here is the link to watch the promo video for the Friday night event.
Kerry Shearer