Alumni Challenge testimonials
Here are some of the many things funded through the generosity of our donations:

Football uniforms, programmable microcontroller-based robots for physics, basketball tournament fees, tools and glazes for ceramics, soccer uniforms (championship teams can be hard on uniforms), girls basketball uniforms and shooting shirts, girls softball uniforms, volleyball equipment, new wrestling mats (Encina can now host tournaments for the first time in MANY years), calculators for math classes, college scholarships, cooking club, health occupation students to HOSA state conference, Encina Safe All Nite Grad, and MORE.

Almost ALL of these programs and projects get no funding from the school district or other sources, but make a big impact on campus and students' lives. We have made, and continue to make, a positive impact on Encina!

Testimonials from recipients of the Alumni challenge pledges
                Thank you so much for your generous donation of $3000 to the BARKS Team for the 2014-15 school year.  With this money we were able to offer a multitude of incentives to students for showing respectful, responsible, kind and safe behaviors.  With this thoughtful donation, the BARKS team was able to purchase movie tickets, gift cards, headphones, sports equipment, and pay for lunches for students to share with their favorite teacher.  All of these incentives were earned by the students for participating in BARKS Days.  BARKS Days are once a month breaks from content specific curriculum to teach behavioral lessons that help our students to be more compassionate citizens.  During lunch, students earn tickets to spin the BARKS wheel by showing proof of participation in each behavioral lesson.  You kind donation has allowed the BARKS team to purchase the prizes mentioned above and more to offer to students via the wheel.  Here are some pictures of students winning prizes on our most recent BARKS Day (4/16/15).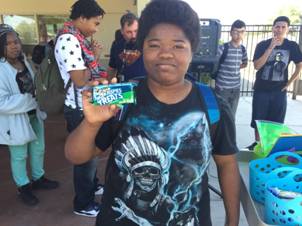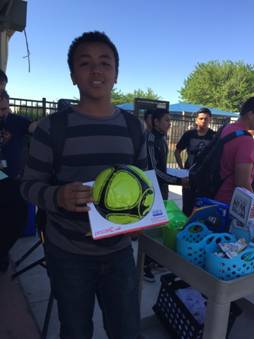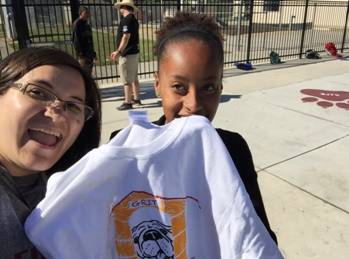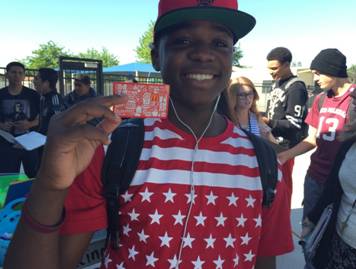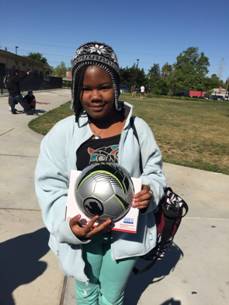 In addition to once a month BARKS Days, on a regular basis we acknowledge students for demonstrating appropriate behaviors.  We do this by passing out BARKS Bucks whenever we see students showing BARKS behaviors.  The BARKS Bucks can be spent at the GRIT Spot snack bar.  In the first semester alone $27,930 BARKS Bucks were spent.  The items purchased with BARKS Bucks were reimbursed with actual monies provided by Booster Club.  The items included, but were not limited to, school supplies, electronics, ASB Cards, water bottles, Caprisuns, Powerade, ice cream sandwiches, chips, granola bars, pudding cups, Poptarts, and cookies. 
Krista Filger
BARKS Coordinator
Thank you for everyone's contribution to boosters, all of Encina's sports programs are funded by alumni donations; if it weren't for those donations Encina students would not have any opportunities in high school sports. The community around Encina high school is majority "low income" therefore most parents don't have the income to put their children in recreational programs. With our students not receiving any training or experience, they are learning how to play when they join a team. Fortunately, we have excellent coaches who are understanding and patient with instructing dedicated student athletes, in some cases from inexperienced to athletic college opportunities. I am the Athletic Director and Girls Soccer Coach. As some of you know, once you're a "soccer player", "basketball player", etc you always are one; it becomes part of who you are and you're proud of it. I've have the opportunity to witness players walk on a team with no experience and see them develop amazing skills. Those athletes gain an identity, confidence, and pride. I feel honored to be apart it!
Jenna Koekemoer
Athletic Director, Encina Prep HS
The Booster Club has been significantly impactful at Encina for many years. This year they have provided vital support to our school, students, families and staff as we work together to make Encina a positive, welcoming and supportive environment for our students to grow and learn. They contributed over $250 to provide a much needed shredder for our counseling department. This may seem like an insignificant item; however, it is critical that we maintain confidentiality with the sensitive information the counseling office houses. Our previous shredder was broken and took an enormous amount of time to shred documents. We have one other shredder on campus, but it is not located near our office and thus requires our secretary to be away from her desk to use it. This leaves her unable to help and greet students and families while she is away and she is the only front desk staff we have in our office. The time and ability to serve our students and families that this shredder has provided for our Counseling Department has been invaluable to our efficiency and effectiveness in serving our students and families. Our deepest gratitude goes to the Booster Club who has been pivotal in helping the Counseling Department and Encina as a whole provide for the great needs of our students and families.
Bianca Soriano
6-8th Grade Counselor
The Booster Club's generous donation allowed me to purchase a wide variety of books for readers of all levels. Many of my students are reluctant to give reading a chance, but when an interesting book piques their interest, I've seen those same reluctant readers tear through a book in a matter of days. It's an incredible transformation that wouldn't be possible in my classroom without the books the Booster Club enabled me to purchase. Thank you for your generosity and dedication to our students!
Michelle Fullner Brown
English Teacher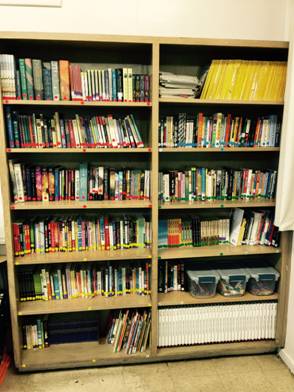 Heat Press
This year, with Booster Club help, the Student Body has been able to purchase a heat press to begin producing our own t-shirts and sweatshirts. With this purchase we are going to be able to work with our Digital Arts class to produce spirit wear for current students as well as Alumni. We are going to be using it to open our Student Store in which spirit wear and food will be sold. The Student Body will also be able to sell shirts to our clubs and our teams, keeping the money within the school and supporting our Student Body. We have begun our first order and our grand opening is set for May.
Lori Sato, Student Leadership and Government Teacher and Activities Director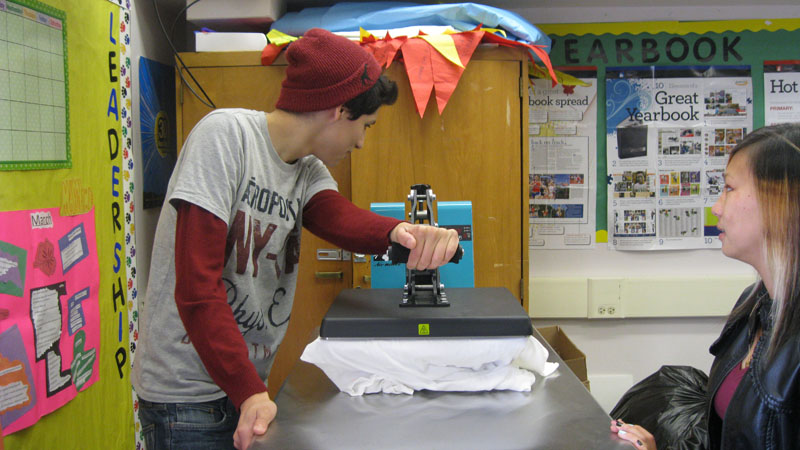 College tours
Dear Alumni association,
Over the past five years we have had the privilege of taking several college trips that have enhanced our Encina HS students college preparation providing resources and tools that enable them to make informed decisions. Through the assistance of Boobster Club we have visited San Jose State, UC Berkeley, UC Davis, Cal Poly San Luis Obispo, UC Santa Cruz, Stanford, CSU Monterey Bay and Chico State on repeated visits. Chico State actually provided financial assistance for our students to tour their campus due to the fact that the Chico State Dean of Admissions is also an Encina alumni!
Our CSF club have been exposed to wonderful college tour experiences that enlighten them to the information they need in order to make informed decisions about their college path. On our tours we have visited the campus bookstores, had lunch in the campus food courts, were led by college students in guided tours and enjoyed special bonding with our fellow club members during our bus rides to the college campuses. We hope in future years to continue to visit campuses in order to provide our students with collegiate experiences that they would not have otherwise. Our Encina students are also exposed to college student life via observation of college students on campus during their typical academic day.
We greatly appreciate the thoughtfulness and kindness extended to our club that has provided us with these exceptional opportunities. Because our students can now make more informed decisions due to these campus tours, they will make better choices for their own academic and career path. As a club that endorses academic excellence and scholarship status, we are thankful to Boosters and the alumni association for their involvement and attention to the importance of our club field trips.
Club Advisors: Arleen Schaller and Lori Patton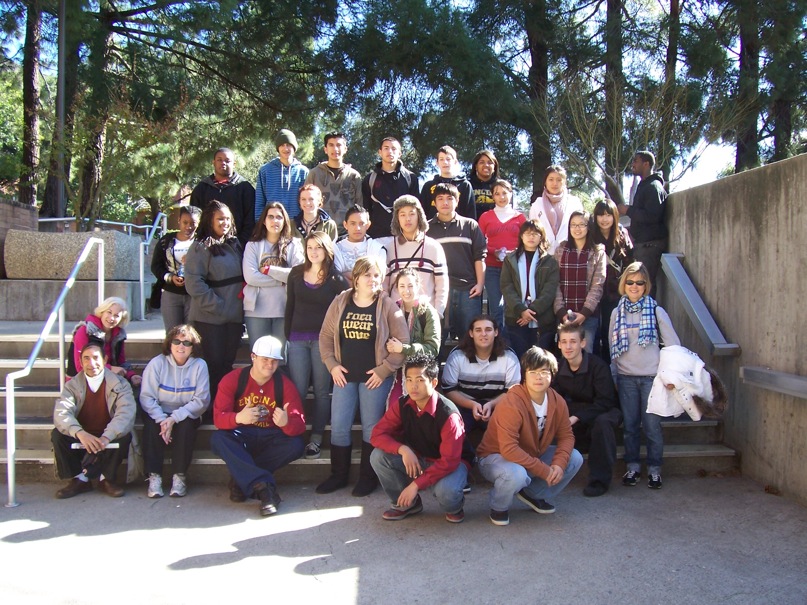 Soccer team
The Encina boys soccer team was honored before the San Jose Earthquakes game on April 7th. The team was introduced on the field for the " Night of Champions ". We stayed on the field and lined up with the professional teams during the national anthem. We then sat together in a section of the stands and watched the game. This was the first professional match for many of the players and they were very excited. We were able to meet other championship teams, their players and coaches, and have scheduled games with them. it was a exciting day for all; a chance to be publically recognized and experience the game at a higher level.
Again, thanks to the support of the booster club we were able to experience all of this.
John Buchmiller Encina soccer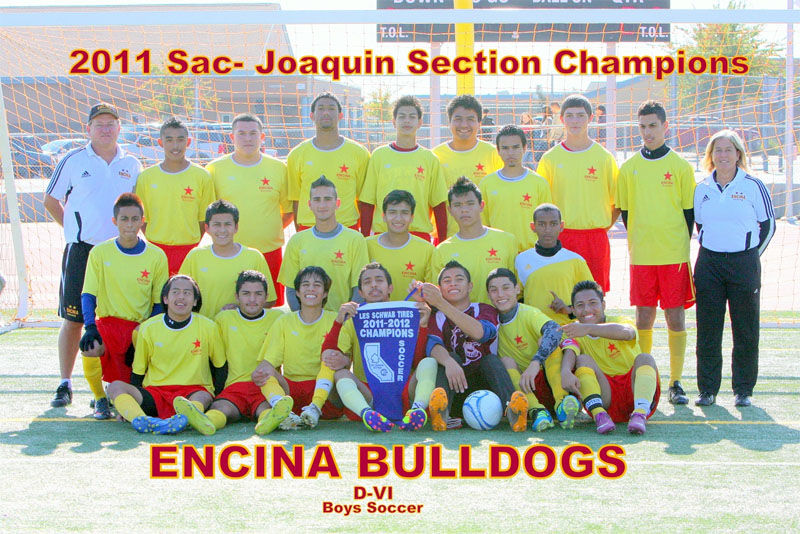 Leadership Conference
During the Leadership conference we had the chance to experience the magic at Disneyland
as well as learn about opportunities and ways to improve our school. We learned that no matter
what things our USB class puts on or does in general like anything, there will be a group of
people who will disagree with it. The goal is just to never give up on trying to better the school
no matter what those people say and to get those people more involved themselves to see how
much fun and work is put into what USB does.

Stephanie (student)
Fall Carnival
The Fall Carnival serves a community wide event including students, staff, and neighboring families. With the help from Boosters, Student Body is able to put on this annual event with assistance in providing new games, prizes, and supplies for the activities. This event serves between 200-300 people during this time. There are student performers, community partners, and the Visual and Performing Arts department puts on a display of Dia de los Muertos artwork and provides activities. Alumni support provided materials for the carnival. Many school districts do not provide money to support these activities. It's up to schools to find a way or raise funds.

Lori Sato
Student Activities Director & Yearbook Advisor
Josten's Renaissance program
This school year, Encina will be participating in the Josten's Renaissance program. The mission is to encourage and empower students to reach their highest potential by recognizing and rewarding their daily efforts. The Encina Preparatory High School Renaissance program along with dedicated educators, administrators, parents, and community and business partners recognizes that a strong commitment to academics, attendance, behavior, and extracurricular activities contributes to a well rounded education. It is our feeling that Renaissance will motivate and inspire higher student achievement while building strong bonds with the community, local businesses, and parents. According to Josten's Renaissance, "What you respect, recognize, reward, and reinforce is what gets accomplished. You can see and feel the difference Renaissance makes." With Booster Club help, Student Body has been able to award students throughout the year with certificates, t-shirts, and prizes such as school supplies and flash drives to help promote education and the tools needed to be successful. The Renaissance team awards approximately 150 teacher nominated Renaissance awards per month. The newly created Student Leadership created a school wide assembly entitled, "Making a Difference." At this assembly we awarded approximately 450 awards for students in all grades.
Lori Sato
Student Activities Director & Yearbook Advisor
Last updated: 04/22/2015