Alumni challenge 2010 pledges
Megapledges:

I'll even sweeten the pot and pledge $100 up to $5,000 for any class of 70 person that donates $10 or more.  That means all we need is a total of 50.  Let's hear from the class of 70!
Paul Bonderson 70
Here's a challenge for the class of ' '70. I will pledge $5.00 ( up to $500.00) for every class of 70 member who can name the clarinet player in the Bell Street Housewreckers in 1970. And I'll even double the the amount to $10.00 if they can name the original clarinet player. This may require some research, but the info is out there!
Now, for those of you who can't figure it out, just wait, someone will eventually give you the answer. Is someone willing to match this?
Paul Whatley 70
We will match, up to $630, the pledges of  1963 alums who have not participated in the drive in the past.   That could be 10 who pledge $63, or 63 who pledge $10  (ala Paul Bonderson.) or five who pledge $26, or any combination.  I would like to encourage small contributions, as I think that sustained contributions are small ones. Timothy Wheelis 63 and Anne Yallalee Wheelis 63
Anonymous 63 pledge for $500
Dick Liden 63 for $300
Marjorie Seimears Fox 64 for $500
Dennis Plessas 73 for $300
Steven Daniel 73 for $350
Anonymous 75 pledge for $500
Anonymous 77 pledge for $500
Anonymous 61 pledge for $2500
Roland Young 71 pledge for $500
Jim Meredith 79 pledge for $790
65 reunion committee pledge for $300
68 reunion committee pledge for $300
Peter Grassi 67 pledged $500
John Skow 66 pledged $300
Alan Stroppini 66 pledged $300
McCormick Cup pledge for $1500
Pledges for Laverne Gonzales
$500 on behalf of the class of 1980. I would personally like to thank Laverne Gonzalez for his amazing contributions to Encina Soccer, Spanish, Film & Media, Tennis, and love of the great outdoors. High school would not have been the same without his energy and enthusiasm.
Brian Bender 80
I will second that thought of my classmate, Brian Bender.
On behalf of the class of 80 and in honor of Laverne Gonzalez I pledge $300.00.
Although I never had the pleasure of being a student of Mr. Gonzalez I was aware of all the good he brought to Encina by way of  my older brother Rick.
On behalf of my beloved brother Rick, who departed this World far too early, I pledge $300.00 in honor of Laverne Gonzalez.
Lynn Bradhoff
Class of 80

Brian and Lynne, you got me! Laverne Gonzales was a wonderful teacher and a calming and steady influence for me in my last semester at Encina. I learned a lot in EBS, not the least of which was some humility beside my amazing classmates. I'm currently unemployed (but doing fine, don't worry about me) so should only pledge $50. Best to All, Christy Cooper 80
the testimonials about la verne gonzales were an inspiration to me, caused me to reflect on the notion that without his (often heroic) efforts, its possible i would never have:
seen a jai-alai game in mexico city
stood atop mt whitney
learned how to write a decent term paper
my pledge to the encina booster club is $150
andrew j pawlowski 80
architect, LEED AP
Put me down for $100 in honor of Laverne "Poncho" Gonzales.  He was definitely one of the best teachers I had at Encina.  He was also a very good friend and mentor – a true educational gem.  Nobody ever looked better in leather pants.
Steve Anderson (aka Hijo de Ander)
Encina Class of 1978
All pledges made to the Encina High School Booster Club are TAX DEDUCTIBLE as the Booster Club is a non-profit organization. The tax ID of the Encina Booster Club is available on request.
Send your check to:
Encina High School Booster Club
Encina High School
Attention: Heddy Crowder
1400 Bell Street
Sacramento,CA 95825
$35,100.65

Total alumni pledges

(261 pledges)
$1025.00
Uncollected alumni pledges (9 pledges)
$34,075.65

Total collected alumni pledges

(252 pledges)
| | | |
| --- | --- | --- |
| Class | Total pledges | Number of pledges |
| staff/parents | $225 | 3 |
| 1961 | $5000 | 12 |
| 1962 | $680 | 9 |
| 1963 | $2490 | 18 |
| 1964 | $1350 | 11 |
| 1965 | $1559.65 | 16 |
| 1966 | $1078.50 | 10 |
| 1967 | $1149 | 8 |
| 1968 | $1210 | 13 |
| 1969 | $819 | 6 |
| 1970 | $7095 | 51 |
| 1971 | $725 | 5 |
| 1972 | $675 | 7 |
| 1973 | $2198 | 14 |
| 1974 | $1220 | 11 |
| 1975 | $1575 | 14 |
| 1976 | $690 | 8 |
| 1977 | $925 | 6 |
| 1978 | $781 | 9 |
| 1979 | $1151.50 | 4 |
| 1980 | $1000 | 4 |
| 1981 | $350 | 3 |
| 1982 | $103 | 1 |
| 1983 | $54 | 1 |
| 1984 | $25 | 1 |
| 1985 | $235 | 3 |
| 1986 | $0 | 0 |
| 1987 | $202 | 5 |
| 1988 | $90 | 2 |
| 1989 | $100 | 1 |
| 1990 | $225 | 2 |
| 1991 | $0 | 0 |
| 1992 | $0 | 0 |
| 1993 | $0 | 0 |
| 1994 | $50 | 1 |
| 1995 | $0 | 0 |
| 1996 | $0 | 0 |
| 1997 | $0 | 0 |
| 1998 | $0 | 0 |
| 1999 | $0 | 0 |
| 2000 | $0 | 0 |
| 2001 | $0 | 0 |
| 2002 | $0 | 0 |
| 2003 | $0 | 0 |
| 2004 | $0 | 0 |
| 2005 | $0 | 0 |
| 2006 | $0 | 0 |
| 2007 | $0 | 0 |
| 2008 | $0 | 0 |
| 2009 | $0 | 0 |
| 2010 | $0 | 0 |
| unknown | $40 | 2 |
| Total | $35,023.65 | 260 |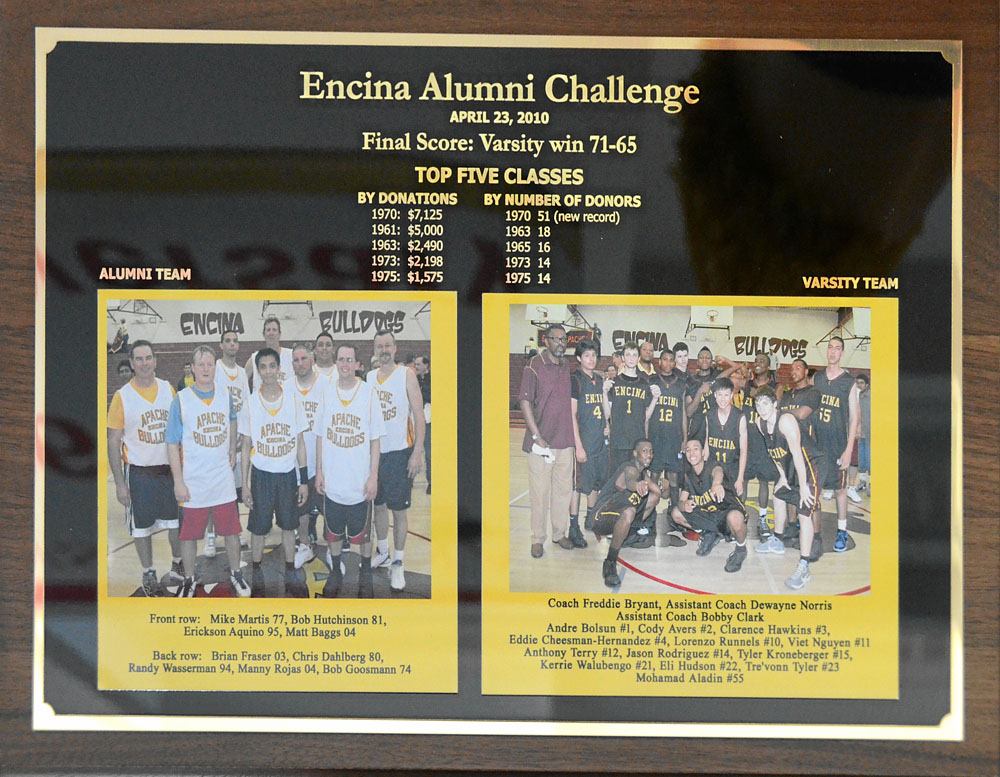 | | |
| --- | --- |
| | Classes by dollars (collected) |
| 1970 | $7125.00 |
| 1961 | $5000.00 |
| 1963 | $2490.00 |
| 1973 | $2198.00 |
| 1975 | $1575.00 |
| | top 5 classes are on alumni plaque |
| 1965 | $1559.65 |
| 1964 | $1350.00 |
| 1974 | $1220.00 |
| 1968 | $1210.00 |
| 1979 | $1151.50 |
| 1967 | $1149.00 |
| 1966 | $1078.50 |
| 1980 | $1000.00 |
| | |
| --- | --- |
| | Classes by number of pledges |
| 1970 | 51 (a new record) |
| 1963 | 18 |
| 1965 | 16 |
| 1973 | 14 |
| 1975 | 14 |
| | top 5 classes are on alumni plaque |
| 1968 | 13 |
| 1961 | 12 |
| 1964 | 11 |
| 1974 | 11 |
| 1966 | 10 |
| 1978 | 9 |
| 1976 | 8 |
| 1962 | 9 |
| 1967 | 8 |
Pledges (bold indicates paid)
Staff/parents
Fred & Faris Kasline ($150)
Gayle Kernick ($25)
Chuck & Sharon Reade ($50)
[3]($225)

1961
Anonymous ($2500)
McCormick Cup ($1500)
Carol Davis Martin ($200)
Pete Gebauer ($100)
Hal Gerrish ($61) Bonnie Harvey Miller ($200)
Ralph Jacobson ($100)
Kermit Pahl ($61)
Carol Rodrigues Davidson ($67)
Pam Tack Taxara ($61)
Bill Wells ($100)
Kathleen Zahn Gray ($50)
[12]($5000)

1962
Anonymous ($100)
Alice Braio Bogert ($100)
Bill Corrie ($100)
Ken Jaffee ($50)
Randi Muller Kemper ($50)
Pat Stuart Pitts ($50) Jerry Sullivan ($30)
Carol Swinehart Swanson ($100)
Kent Towers ($100)
[9]($680)

1963
Anonymous ($25 in memory of Dick Liden)
Timothy & Anne Wheelis ($315)
Anonymous ($500)
Peter Boam ($100)
Dennis Bright ($100)
Hal Duensing ($100)
Dan Goetzman ($100)
Grid Gridley ($100)
Dave Helmich ($100)
Dennis Keer ($100)
Dick Liden ($300)
Rocky Lynn ($50)
Al Moss ($250)
Richard Rolloff ($100)
Marsha Smith Roggero ($100)
Sandy Stillwell Trancredi ($50)
Karolinn Williams Green ($100)
[18]($2490)

1964
John "Dan" Dwyer ($100)
Georgene Gunderson Cooper ($50)
Robert Hulin ($200)
Paul Jorjorian ($50)
Kim Marsh Bryant ($50)
Jerry Mullinix ($50)
Carol Pachl ($100)
Linda Rodrigues Wolfe ($50)
Marjorie Seimears Fox ($500)
Michael Simmons ($100)
Terry Wolford ($100)
[11]($1350)
1965
Reunion committee ($300)
Susan Bowers ($100)
Kathy Byrne Murray ($50)
Susan Butler ($100)
Leslie Cameron Silva ($100)
Sheila Clover Enders ($65)
Gary Disher ($100)
Jim Fossi ($65)
Dave Gebauer ($65)
Larry Gray ($100)
Jeanne Kern ($65)
Carl Lyon ($65)
Barbara McKee Craig ($19.65)
LInda Pearson Sills ($100)
Duane Reaugh ($200)
Patience Thoreson ($65)
[16]($1559.65)
1966
Pam Baldi Costa ($100)
Kathy Cooper ($50)
Lou DeCosta ($25)
Jerry Hallstrom ($52)
Dawn Lauppe Panton ($100)
Tress Ostoja Putnam ($51.50 for Natalie Tamburri Fong 66)
Elayne Roberts Anderson ($50)
John Skow ($300)
Alan Stroppini ($300)
Larry Trathen ($50) [10]($1078.50)

1967
Linda Copley Mullen ($25)
Greg Grassi ($490)
Mary Helmich ($200)
Charlene Jenkins Bole ($100)
Judy Johnson Green ($100)
Kathie Kloss Marynik ($67)
Lora Saunders ($100)
Chris Wicks ($67)
[8]($1149)


1968
Reunion committee ($300)
Judi Adams Tometich ($50)
Michael Blas ($100)
Tim Buckles ($50)
Lewis Chapman ($50)
Tom DuHain ($75)
Deanna Dunning Schwartz ($35)
Cathy Ewing ($50)
Kitty Jacinto Chapman ($50)
Susan Johnson Davis ($250)
Gail Patton ($50)
Tanya Rowe Beard ($100 in memory of deceased classmates)
Jeff Stoddart ($50)
[13]($1210)

1969
Nancy Baumgart Coonis ($150)
Deborah Carlsberg Foster 69 ($69)
Dan Dimickk ($200)
Chantelle Lehman Biaggi ($200)
John Ryan ($100)
Marcee Schwartz Samberg ($100)
[6]($819)

1970
Paul Bonderson ($5000; $100 for 70 pledges >$10)
Michael Albert ($25)
James Barbeau ($100)
Burt Baumgartner ($50)
Kathie Benoit ($50)
Ron Bettencourt 77 ($10 for Jack Bettencourt 70)
Guy Blair ($50)
Guy Blair ($10 for Jack Crandal 70)
Guy Blair ($10 for Jack King 70)
Gene Blakely ($25)
Ken Blas ($50)
Cathy Buchanan Ball ($70)
Cathy Buchanan Ball $20 for Sue Patterson 70)
Shelley Burns ($25)
Lynn Bytell ($25)
Mary Ellen Collentine ($50)
Gail Cordy ($20)
Linda Dankman ($20)
Dan Dimick ($70 for Paul Dimick 70)
Martha Dwyer Wendt ($25)
Martha Dwyer ($25 for John Daniels 70)
Bob Gaines ($25)
Ken Gaugler ($25)
David Grant ($70)
Greg Grassi ($10 for Peter Grassi 70)
Kristine Grasso Elmer ($50)
Aileen Hamlin ($10 by Joan Hamlin 69)
Lynda Hulin Armitage ($25)
Debbie Kwoka Elayan ($25)
Ken Lambert ($25)
Mark Lambert ($20)
Cheryle Lees ($25)
Janine Louther ($10)
Clint McCubbin ($100)
David Miller ($75 for Madrigals)
Doug Nareau ($20)
Doug Nareau ($10 for John Eghoan 70)
Judy Pryor Saint ($25)
Mary Rectenwald ($25)
Mary Reddick ($50)
Jo Scott Conger ($50)
Susan Skow Cagle ($75)
Dan Smith ($50)
Hank Tonnemacher ($25)
Hank Tonnemacher ($10 for Del Peterson 70)
Paul Whatley ($500)
Ken Witham 99 ($10 for Kim Ogden 70)
Ken Witham 99 ($10 for Richard Reese 70)
Ken Witham 99 ($10 for Kenny Percifield 70)
Ken Witham 99 ($10 for Mallory Marks 70)
Ken Witham 99 ($10 for Victoria Johnson 70)
[51]($7125)


1971
Debi Connell Wurdack ($50)
Nancy Cooper Manly ($75)
Michelle McClatchy Mosley ($50)
David Walter ($50)
Roland Young ($500)
[5]($725)

1972
Mike Barragan ($50)
Bill Grebitus ($100)
Craig Moseley ($300)
Susan Schwartz Blum ($50)
Kate Steinkoenig ($75)
Pamela Toole Barragan ($50)
Renee Welch Wojnowski ($50)
[7]($675)

1973
Anonymous ($250)
Steven Daniel ($350)
Mike Fahn ($100)
Scott Harris ($100)
Heather Kendall ($100)
Harlan ($200)
Elliott Mandell ($100)
Nancy Patton ($100)
Dennis Plessas ($300)
Ellen Rake Cutler ($100 in memory of Mike Fenton 73)
Debbie Skalisky ($73)
Rett Smart ($250)
Kate Steinkoenig ($75)
Loni Whalen Mellerup ($100)
[14]($2198)

1974
Pat Allen Wilder ($100)
Gary Edelblute ($100)
Bob Goosmann ($50)
Terrea Harlan Sherman ($20)
Terri Jurich Howard ($50)
David Knepprath ($250)
Gregg Magaziner ($100)
Steve Palmer ($250)
Ted Peterson ($100)
Robin Reade ($100)
Denni Schwartz Mador ($100)
[11]($1220)
1975
Anonymous ($500)
Donald Bright ($100)
Annette Crandall ($100)
Jack Dieterle ($100)
Linda Fanning Cabana ($100)
Bill Johns ($75)
Brad Jope ($100)
Cyndi La Cornu ($50 in memory of deceased classmates)
Jeff Magaziner ($100 for Bob Bingham)
Michelle Pequet ($50 for Steve Cook & Bob Bingham)
Julie Quirk McManus ($75 for Bob Bingham)
Scott Roberts ($75 for Steve Cook)
Art Taylor ($100)
Dan Worley ($50)
[14]($1575)

1976
Anonymous ($200)
Margaret Anderson Taylor ($50)
Kris Kaney ($40)
Becky King Stolberg ($100)
Charlie Reade ($50)
Pamela Rizzo Keely ($50)
Ron Rowan ($100)
Bruce Roy ($100)
[8]($690)

1977
Anonymous ($500)
Anonymous ($100)
Ron Bettencourt ($100)
Rich Kendall ($25)
Rocky Niederberger ($100)
Laura Vasquez Lavallee ($100)
[6]($925)
1978
Steve Anderson ($100 for Laverne Gonzales)
David Carter ($100)
Lynn Gile Tracy ($78)
Carol Markell Keller ($15 + $35)
Dan Mayes ($78)
Lissa Miller Souther ($25)
Derek Reade ($100)
Denise Wilber DeTrano ($200)
Dan Will ($50)
[9]($781)
1979
Diane Fournier ($25)
Steve McPhail ($257.50
Jim Meredith ($790)
Suzy Waldo Evans ($79)
[4]($1151.50)
1980
Brian Bender ($500 on behalf of Laverne Gonzales)
Lynn Bradhoff ($300 in memory of Rick Bradhoff 75 & Laverne Gonzales)
Christy Cooper ($50 for Laverne Gonzales)
Andrew Pawlowski ($150 for Laverne Gonzales)
[4]($1000)
1981
Barbara Bixby Getz ($100)
Robert Hutchison ($50)
Melissa Tovar Daily ($200)
[3]($350)

1982
Vince Thompson ($103)
[1]($103)

1983
Cindy West ($54)
[1]($54)
1984
Kari Reser ($25)
[1]($25)

1985
George Hansen ($100)
Dawna Spivey Hunter ($85)
Angela Vienna Brauner ($50)
[3]($235)

1986
[0]($0)

1987
Andrew Boyd-Goodrich ($87)
Becca Braio Veteto ($25)
Rick Lewis ($40)
Michelle Pyorre Williams ($25)
Larry Veteto ($25)
[5]($202)

1988
Cindy Johnston Bennett ($65)
Mindi Mahr ($25)
[2]($90)

1989
Nancy Reid Decker ($100)
[1]($100)

1990
Tracy Pyorre Wirtz ($25)
Donald Chris Young ($200)
[2]($225)

1991
[0]($0)

1992
[0]($0)

1993
[0]($0)

1994
Scott Ainsleigh ($50)
[1]($50)

1995
[0]($0)

1996
[0]($0)

1997
[0]($0)

1998
[0]($0)

1999
Ken Witham (see 1970)
[0]($0)

2000
[0]($0)
2001
[0]($0)
2002
[0]($0)
2003
[0]($0)
2004
[0]($0)
2005
[0]($0)
2006
[0]($0)
2007
[0]($0)
2008
[0]($0)
Unknown
Cash ($20)
Cash ($20)
[2]($40)
Last updated: 5/2/12